Mariah Jacqualine-Lorene Scott

July 21, 2003 - March 30, 2005



This memorial website

was created in the memory of

our Dear Angel,

Mariah Scott

who was born in Wayne, Nebraska

on July 21, 2003

and

passed away on March 30, 2005

at the hands of her mother's boyfriend

at the age of 20 months

in Stanton, Nebraska.

She will forever be in our

hearts, thoughts, and prayers.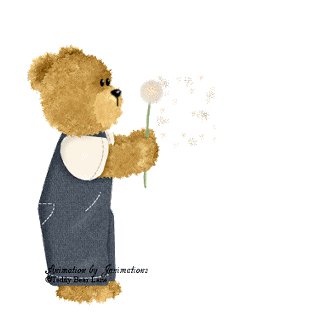 I Am With You Always

As you hold me close in memory,
Even though we are apart,
My spirit will live on,
There within your heart...

I am with you always.

When you lean on trusted friends
And their caring hugs enfold you,
Within their loving arms,
I'll be there to hold you...

I am with you always.

And beyond the far horizon
When we'll finally be together
Where love will be eternal,
And life will last forever...

I am with you always


Your life does not conclude with death,
Nor will it end with mine,
For all the lives I touch, you touch,
And so on through all time.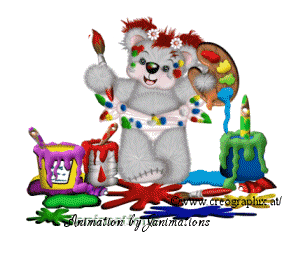 Please feel comfortable enough to

light a

"Memorial Candle"

or

leave a message

in the

"Tributes and Condolences"

************

If you can't find the words
at this time
leaving your name
will be greatly appreciated.

"Mariah"


"The mention of
my child's name

May
bring tears to my eyes


But it never
fails to bring

Music to my ears.


If
you are
really my friend,


Let me hear the beautiful music

of her name.

"Mariah"


It soothes my broken
heart


And sings to my soul."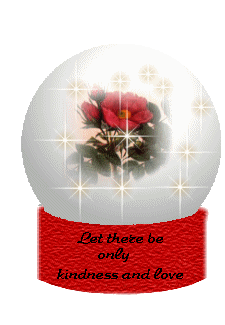 The 1st day of each month is

"Chain-Of-Comfort Day"

Please light a candle

for each of your Angels.




A heart of gold stopped beating,

two shining eyes at rest,

God broke our hearts to prove,

he only takes the best.

God knows you had to leave us,

but you did not go alone,

for part of us went with you,

the day he took you home.

To some you are forgotten,

to others just part of the past,

but to us who loved and lost you,

the memory will always last.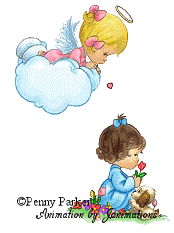 God's Colors

Who paints those lovely colors
That we see up in the sky?
Who caps those awesome mountains
With sparkling snow up high?
Who puts a sheen of green
Upon each tall and stately tree?
Who makes the streams crystal blue
Softly flowing magic for you and me to see?
Who makes the sun so warm and bright
Then fills it with great power
To make the earth spring forth with color
With just a little shower?

Who gives each bird the song they sing
As they fly away so far
Who puts those tiny twinkles
In each brightly shining star?
Who in Heaven keeps watch upon
Each one of us each day?
And blesses us with all this glory
As we travel on our way?
~ Charlotte Anselmo ~



And God Says

As long as there are stars in the sky,

And fish swim in the sea,

As long as Heaven and earth remain.

You will be loved by Me.

As long as grass grows on the earth,

And sand is by the sea,

As long as raindrops continue to fall,

You will be loved by Me.
As long as day turns into night,

And there is air to breathe,

As long as Heaven and earth remain,

You will be loved by me.
Louise P. Heckman
You Are My Angel

You are the Angel who I cherish,
So dearly in this heart of mine;
The one who makes my day brighter,
By making my whole world shine.

During all the darkest moments,
When my skies turn cloudy and gray,
You're the one who touches my heart,
And makes everything seem okay.

I count my blessings that I have,
An Angel like you, so close at hand;
A friend who always watches over me,
Someone who can always understand.

If I need someone who I can turn to,
You are always right there beside me,
Giving so much of yourself each time,
To guide me to the light, so I can see.

We are all assigned a Guardian Angel,
And I'm so glad God chose you as mine;
He knew that whenever I needed His love,
You would be an Angel to me every time.
Written by Teresa Rhods.

On March 30, 2005 my daughter (Kasci) got home from

work around 11:30. Kasci sat down to unwind from

her nights work as security guard at Tyson in Norfolk,

Nebraska and talk with her boyfriend / babysitter. She

then went to tell kiss her daughter (Mariah), Goodnight

like she did every night, only to find her cold lifeless

body laying in the crib. She picked Mariah up and while

running down the stairs, yelling for her boyfriend to call

911. When Kasci got down in the light, she noticed

Mariah's face was covered in bruises, her boyfriend said

Mariah had fallen down the

stairs. The rescue department worked on Mariah on the

way to the hospital where she was pronounced dead.

The Sheriff's Department was called to the house to

investigate. Seeing that beautiful little angel laying on

that bed, face covered in bruises (one big handprint on

the left side of her beautiful face) will be a vision I will

never forget. Mariah was only 20 months old.

Telling Kasci Mariah was gone was harder than when I

had to tell my kids that their biological dad had passed

away. Mariah died from her mother's boyfriend hitting

her in the face. The person who caused her death is

currently being held in jail and we attend every court

session he has.

May our precious Angel rest in peace.

Mariah Jacqualine-Lorene Scott

July 21, 2003-March 30, 2005
We've set up a memorial fund in Mariah's name at a

local bank, to help with the burial expenses. And the

extra money will be going to the Child Abuse

organization.

If you would like to help with this fund, please click here


or send payments to:

Mariah Scott Memorial Fund

C/O The State National Bank & Trust Co

116 W. 1st PO Box 130

Wayne, NE 68784

We've also started a scholarship fund in the criminal

justice department at Wayne State College.
If you would like to contribute please

send payment to:

Mariah Scott Memorial Scholarship

58375 861 RD

Wakefield, NE 68784


Thank you for reading and please,

LOVE AND HUG YOUR KIDS.

These donations are merely a way for the family to do

something good from our tragic loss.
FACE OF AN ANGEL


The face of an angel is all that is here...

Not ready to leave, but has to go,
Wants to go back, but God says no.

Leaving your life is a scary thought,
I guess it's something that can't be fought.

A mother, a father, a sister and friends,
A meaningful life that suddenly ends.

An angel is what she was meant to be,
Now just think of all she can see.

Looking over her family night and day,
Saying I love you in her own special way.

In the night we sleep, in the day we cry,
She watches us all from her star in the sky.









Child Abuse Prevention Sites
Child Abuse Prevention network


Wear a Blue Awareness Ribbon and help share the message: Children deserve to be safe and everyone is responsible for keeping them safe. To receive your FREE Awareness Ribbon

http://www.cardinalmccloskeyservices.org/blue_ribbon.shtml


for visiting Mariah's Site.
You are welcome to visit as often as you wish.
My other Memory-Of Sites are:

http://josephdesrochers.memory-of.com/About.aspx
http://colt-penny.memory-of.com/about.aspx
http://toby-meister.memory-of.com/about.aspx
http://madison-foell.memory-of.com/About.aspx
http://mary-bates.memory-of.com/about.aspx
http://mariah-scott.memory-of.com/about.aspx

God Bless each of you,
Johnette Moninger



"THANK YOU"
to the following Sites
for the use of their

GREAT GRAPHICS, POEMS, and WORDS.

http://s51.photobucket.com/albums/f383/Naomi74/?
http://s40.photobucket.com/albums/e218/vallane/?
http://blinkies.clgstationery.com/
http://home.bellsouth.net/p/s/community.dll?ep=16&groupid=302485&ck=
http://www.hayeskent.com/angelreminders/
http://www.angelfamilies.cityslide.com/page/page/2659723.htm
http://www.angeleyes2.com/
http://www.uselessgraphics.com/
http://www.bigoo.ws/
http://www.paulsadowski.com/birthday.asp
http://www.myhtmlhelp.com/
http://blinkyou.com/
http://www.danggoodjokes.com/
http://www.eakles.com/index.html
http://www.emusing.com/
http://www.piczo.com/staciesgiveaways?g=13906896&cr=1

If Only You Could See

I know you're feeling sad today
because I had to go.
I know you have so many things
that remind you of me so.
And though you cry as you recall
the times you spent with me.
I know your pain would turn to joy
if only you could see.
I'm in Heaven with Jesus now.
We laugh, we sing, we play.
He holds me gently in His arms.
I know no pain today.
And though we're apart for a little while,
Jesus has promised me
He'll someday bring you here
where we'll live for eternity.









"MOTHER"

You taught me how to love you by
The way that you loved me;
And by your unseen sustenance,
To see what you could see.

You gave to me through who you were
The gift of what I am.
Your pride in me is now my pride;
Your faith, my caravan.
Please know that you are welcome
to use anything from
Mariah's Site for your own Site.
God Bless You,
Johnette


Birthday Calculator

21 July 2003
Your date of conception was on or about 28 October 2002
which was a Monday.

You were born on a Monday
under the astrological sign Cancer.
Your Life path number is 6.

Life Path Compatibility:
You are most compatible with those with the Life Path numbers
3, 6 & 9.
You should get along well with those with the Life Path numbers
2, 4, 8, 11 & 22.
You are least compatible with those with the Life Path numbers
1, 5 & 7.

The Julian calendar date of your birth is 2452841.5.
The golden number for 2003 is 9.
The epact number for 2003 is 27.
The year 2003 was not a leap year.

Your birthday falls into the Chinese year
beginning 2/1/2003 and ending 1/21/2004.
You were born in the Chinese year of the Goat.

Your Native American Zodiac sign is Woodpecker;
your plant is Wild Rose.

You were born in the Egyptian month of Paopy,
the second month of the season of Poret (Emergence - Fertile soil).

Your date of birth on the Hebrew calendar is 21 Tammuz 5763.
Or if you were born after sundown then the date is 22 Tammuz 5763.

The Mayan Calendar long count date of your birthday is
12.19.10.7.17 which is
12 baktun 19 katun 10 tun 7 uinal 17 kin

The Hijra (Islamic Calendar) date of your birth is Monday, 21 Jumadiyu'l-Avval 1424 (1424-5-21).

The date of Easter on your birth year was Sunday,
20 April 2003.
The date of Orthodox Easter on your birth year was Sunday,
27 April 2003.
The date of Ash Wednesday (the first day of Lent) on your birth year was Wednesday
5 March 2003.
The date of Whitsun (Pentecost Sunday) in the year of your birth was Sunday
8 June 2003.
The date of Whisuntide in the year of your birth was Sunday
15 June 2003.
The date of Rosh Hashanah in the year of your birth was Saturday,
27 September 2003.
The date of Passover in the year of your birth was Thursday,
17 April 2003.
The date of Mardi Gras on your birth year was Tuesday
4 March 2003.

As of 2/7/2007 1:17:53 PM EST
You are 3 years old.
You are 43 months old.
You are 185 weeks old.
You are 1,297 days old.
You are 31,141 hours old.
You are 1,868,477 minutes old.
You are 112,108,673 seconds old.

Celebrities who share your birthday:

Hatty Jones (1988)
Josh Hartnett (1978)
Jon Lovitz (1957)
Michael Connelly (1956)
Robin Williams (1952)
Cat Stevens (1948)
Kenneth Starr (1946)
Norman Jewison (1926)
Don Knotts (1924)
Kay Starr (1922)
Isaac Stern (1920)
Marshall McLuhan (1911)
Ernest Hemingway (1899)

Top songs of 2003:

In Da Club by 50 Cent
Ignition by R. Kelly
Get Busy by Sean Paul
Crazy in Love by Beyonce (with Jay-Z)
When I'm Gone by 3 Doors Down
Unwell by Matchbox 20
Right Thurr by Chingy
Miss You by Aaliyah
Picture by Kid Rock & Sheryl Crow
Bring Me to Life by Evanescence

Your age is the equivalent of a dog that is 0.507632093933464 years old. (You're just a pup!)

There are 164 days till your next birthday
on which your cake will have 4 candles.

Those 4 candles produce 4 BTUs,
or 1,008 calories of heat (that's only 1.0080 food Calories!) .
You can boil 0.46 US ounces of water with that many candles.

In 2003 there were 4,091,063 births in the US.
In 2003 the US population was approximately
281,421,906 people, 79.6 persons per square mile.
In 2003 in the US there were 2,187,000
marriages (7.5%) and — divorces (3.8%)
In 2003 in the US there were approximately
2,423,000 deaths (8.3 per 1000)
In the US a new person is born approximately every 8 seconds.
In the US one person dies approximately every 12 seconds.

In 2003 the population of Australia was approximately 1
9,982,512.
In 2003 there were approximately
251,161 births in Australia.
In 2003 in Australia there were approximately
106,394 marriages and 53,145 divorces.
In 2003 in Australia there were approximately
132,292 deaths.

Your birthstone is Ruby

The Mystical properties of Ruby

Ruby is said to open one's heart to love.
Some lists consider these stones to be your birthstone.
(Birthstone lists come from Jewelers, Tibet,
Ayurvedic Indian medicine, and other sources)

Carnelian

Your birth tree is

Elm Tree, the noble-mindedness
Pleasant shape, tasteful clothes, modest demands,
tends not forgive mistakes, cheerful, likes to lead but not to obey, honest and faithful partner,
tends to a know-all-attitude and making decisions for others,
noble-minded, generous, good sense of humour, practical.

There are 321 days till Christmas 2007!
There are 334 days till Orthodox Christmas!

The moon's phase on the day you were
born was in its last quarter

PLEASE keep these
Angels and their families
in your prayers...

Thomas E. Parker
January 12, 1932 - July 27, 2002

Roy William Moninger, SR.
August 29, 1914 - January 3, 1986

Roy William Moninger, JR.
June 27, 1942 - August 15, 1998

Carrol Dean Chew

Arthur Semrau
March 12, 1915 - April 14, 2002

Amanda Semrau
December 11, 1915 - November 10, 2003

J. Eddie Connealy
Febuary 26, 1961 - December 22, 2004

August Pape
March 6, 1906 - April 3, 2005

Nolah Ava Bolli
August 2, 1918 - October 31, 2005

Tyson Edward Weber Fergen
January 30, 2006 - April 13, 2006

Emilie Lindner
January 21, 1928 - June 4, 2006

Richard "Dick" N. Bartels
January 29, 1930 - July 1, 2006

Ruben Chicone
August 2, 1974 - July 29, 2006

Steve Erwin
September 2006

Betty Ropkin
September 2006

Dan Tighe
May 24, 1916 - September 24, 2006

L. C. "Jody" Yandell
June 25, 1929 - November 9, 2006

Andrea Dee Saeger Wulf
July 2, 1965 - November 12, 2006

Kenny Clark
April 23, 1922 - January 18, 2007

Helen C. Sanders
December 30, 1916 - February 3, 2007

Robinette A. Polly
June 13, 1912 - February 17, 2007

Roland J. Clark
October 3, 1927 - March 19, 2007




April 3, 2006
Court Update:

Just an update to all on the sentencing

today for the guy that killed

our little angel.

The prosecutor was going for

20 to 24 years,

but the judge gave him

20 to 40 years (YEA)

with a chance for parole at

10 years (BOOOO).

At least there was some justice

If I could have one lifetime wish,

A dream that would come true;

I'd pray to God with all my heart

For yesterday and you.

A thousand words won't bring you back,

I know because I've tried.

Neither will a thousand tears,

I know because I've cried.

You left behind my broken heart,

And happy memories too.

But I never wanted memories,

I only wanted you.